Au-delà de cette limite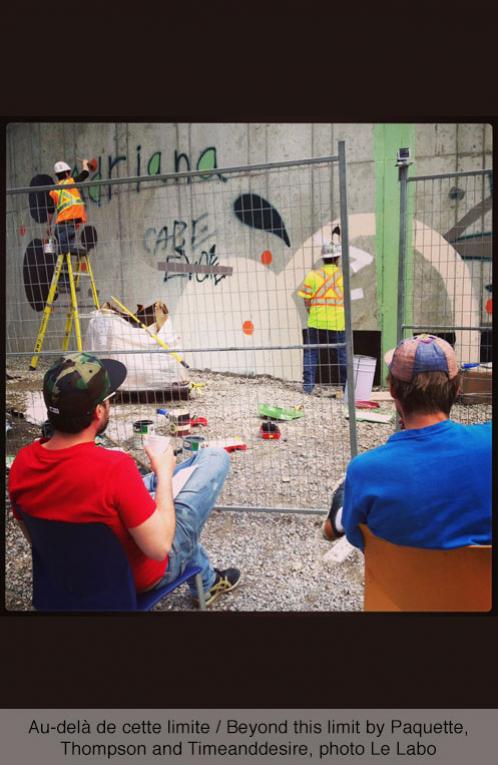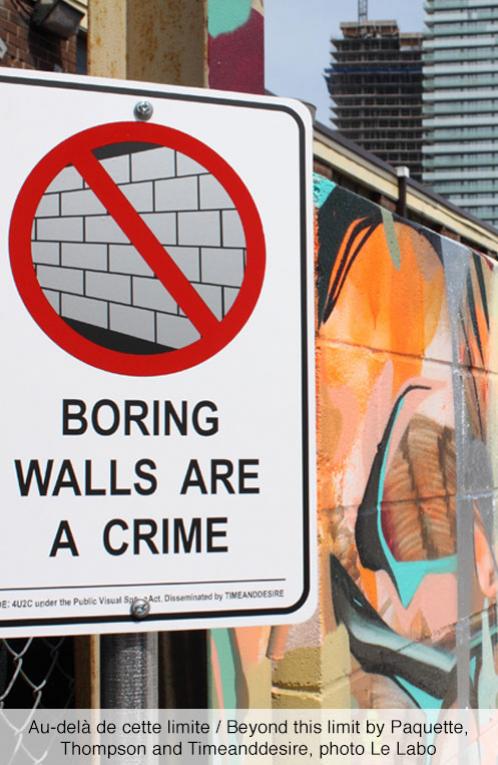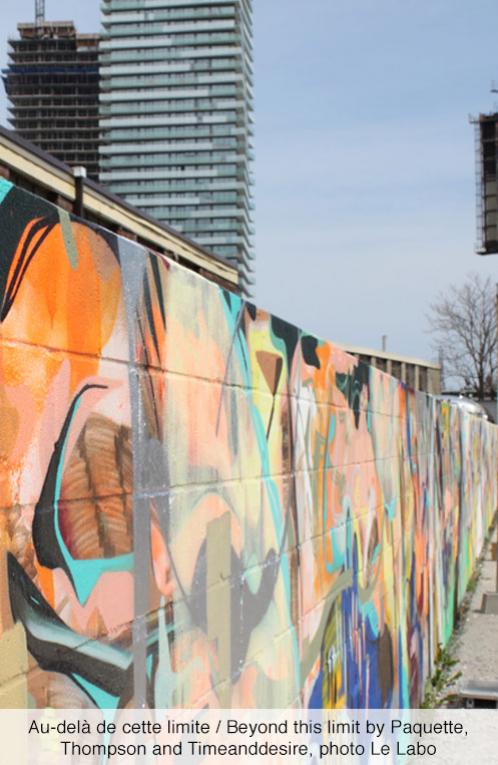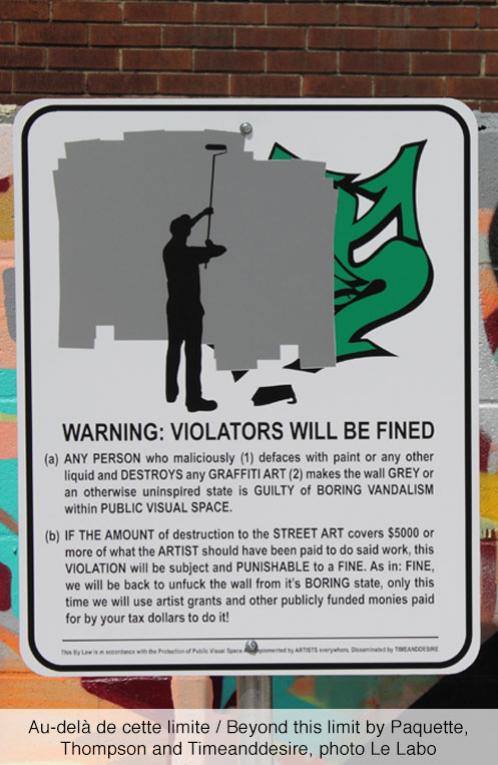 Service offered by Elegoa
Curating
Clients
Le Laboratoire d'art and Alliance Française de Toronto (AFT)
Le Laboratoire d'art, Le Labo inc. – Toronto francophone media art centre (Le Labo) Located in the Distillery District, Le Labo is well connected with both the artistic and the francophone communities. Le Labo's mandate is to foster incubation, innovation, creation and production in the media arts with an emphasis on promoting artistic collaboration and providing an environment for its exhibition and performance. In addition to providing access to media production studio space with professional state-of-the-art technology, Le Labo's annual programming includes residencies, exhibitions, installations, workshops, conferences and artist talks.
Alliance Française de Toronto (AFT): French language school and cultural centre
Two francophone organizations wanted to collaborate on a project to direct their respective audiences to public spaces. 
Beginning in 2011/12, Alliance Française de Toronto expanded its artistic programming. This led the institute to explore with a project outside the boundaries and format of its regular exhibits. 
The two francophone institutions were also confronted at the same time with constructing and renovating their site. It led them to discuss the possibility of extending the usual notion of "the exhibition space" outside, in the public sphere. They were also interested in how to contextualize the audiences' experience once art has left the traditional space.
The discussion between the two centres on issues pertaining to artistic production within the public sphere led them to commission this project to Catherine Sicot.
Project
Au-delà de cette limite, l'art s'en mêle… (Beyond this Limit…)
In April 2013, Beyond this limit… brought together visual artists involved in street art: Pascal Paquette, Patrick Thompson and the collective Timeanddesire. The artists followed a collaborative process, painting and intervening at two different sites: the Krown Rust Control Company, located between the Esplanade and The Distillery District;, and a construction site (led by Greenferd, the construction company which collaborated on the project)  at Alliance Française .  Didier Charrette, a television journalist and a music-lover with a passion for alternative artistic forms of expression and social media, documented and shared their work on social media platforms.
Location 
Two private sites; one in downtown Toronto and one in the east end. Krown Rust Control's site was open to the public. The issue of access to AFT's construction site for the public and the artists prompted negotiations with Greenferd, the construction company leading the AFT project, that led to a compromise. Paquette and Thompson invited two Greenferd employees, Gabriel Gennaro and Robert Stephens, to become their substitutes and collaborators for a one-time performance. This took place on April 30th and May 1st on the outside wall of the AFT's theatre's construction site. At the same time, Timeanddesire installed there work on the AFT site.
Artists 
Pascal Paquette 
A recognizable figure in two distinct art worlds, he has spent the last decade traversing the contemporary art scene, while learning and expanding on his graffiti writing practice under the pseudonym Mon Petit Chou. Paquette's thematic interests interrogate the transformation of culture that occurs when two or more economic, social or cultural realities collide. He works primarily through painting, but also employs street art, graffiti and photography in projects that are often site-specific or geographically dependent. Paquette is a graduate of the Graphic Arts program at La Cité Collégiale in Ottawa, Canada.
Patrick Thompson
Born in 1978 and based in Ottawa, Thompson is part of a group of street artists. His installations, paintings, frescoes, engravings, and sculptures explore information across mass media, architecture, history, and cultural dynamism. Known for his enormous mural frescoes, he is the creator of: Mural Paiting, produced for Quest University in 2008 (Squamish, BC), and the Iqaluit Cultural Mural, present at Qikiqtani General Hospital (Iqualuit, NU).   
His work has been exhibited in exhibitions at major Canadian museums, inclusing the Housepint Project (Royal Ontario Museum, 2008), and OFFGRID (Musée des Beaux-Arts d'Ottawa). For Thompson, travel has always been a major source of inspiration. A recipient of the CYAN (Canadian Youth Arts Network) scholarship, Patrick spent eight months travelling in China (Nanjing), Thailand, Myanmar, and Laos in 2011. He finished his voyage by visiting the Canadian arctic for a month and a half. Each voyage contributes to the development of his creative process.
Timeanddesire [St Marie + Walker]
Timeanddesire is a pseudonym for Denise St Marie and Timothy Walker who create art individually and in collaboration. Their style examines the concept of public and private spaces, as well as the role perception plays in constructing realities.  St. Marie & Walker have a graphic style of work to socially engage the viewer, as seen in: PARK(ing) DAY Mississauga 2012, Scotiabank Nuit Blanche Toronto 2012, The Noise Project 2013 and TEXTING at Gallerywest 2013. Their work, both outside and inside the gallery, continually endeavours to bridge the psychological, the philosophical and the poetic.
Time period 
April 2013